Close to 6,000 boys and girls and over 260 matches of indoor soccer made for another fantastic rendition of western Canada's largest indoor soccer competition.
The Edmonton minor soccer community came out in full force this past holiday season, December 27-29 for the annual FC Edmonton Polar Cup. The annual indoor tournament attracted close to 6,000 boys and girls players from across western Canada and the northwest United States. Participants competed in 260 matches at 13 separate facilities in Alberta's capital city.
"FC Edmonton was proud to continue its partnership with the Edmonton Minor Soccer Association (EMSA) for another season as the lead sponsor of the Polar Cup," FC Edmonton general manager Jay Ball stated. "It's important for the club to connect with minor soccer in Edmonton and Alberta as a whole through sponsorship opportunities such as these."
The 7v7 indoor competition has become the largest of its kind in western Canada after starting as a way to give kids more playing time during the Christmas holidays almost 24 years ago.
Eddies' midfielder and Canadian international Nik Ledgerwood and defender Allan Zebie were on hand to award medals, take pictures and sign autographs for the participants at Edmonton Soccer Centre South on Thursday. Zebie, a product of Edmonton minor soccer, participated in the tournament himself when he was 15 years old.
"It's a responsibility for the club to support development of the game in our province and give back to the community that's helped produce some fantastic players," Ball added. "Having local players like [Zebie] is great for showing young players their potential and how they can develop from grassroots to the elite level."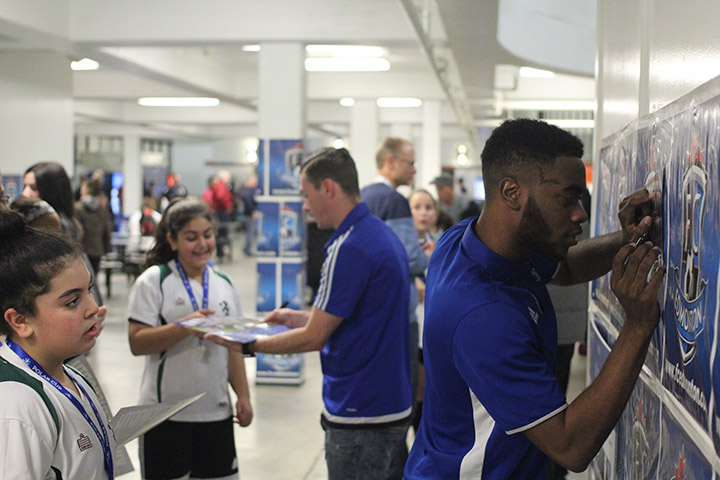 FC Edmonton is ramping up for their return to the pitch for the 2017 North American Soccer League (NASL) season and fans can learn more about Claiming Their Throne at Clarke Stadium by clicking here for more information on season tickets.