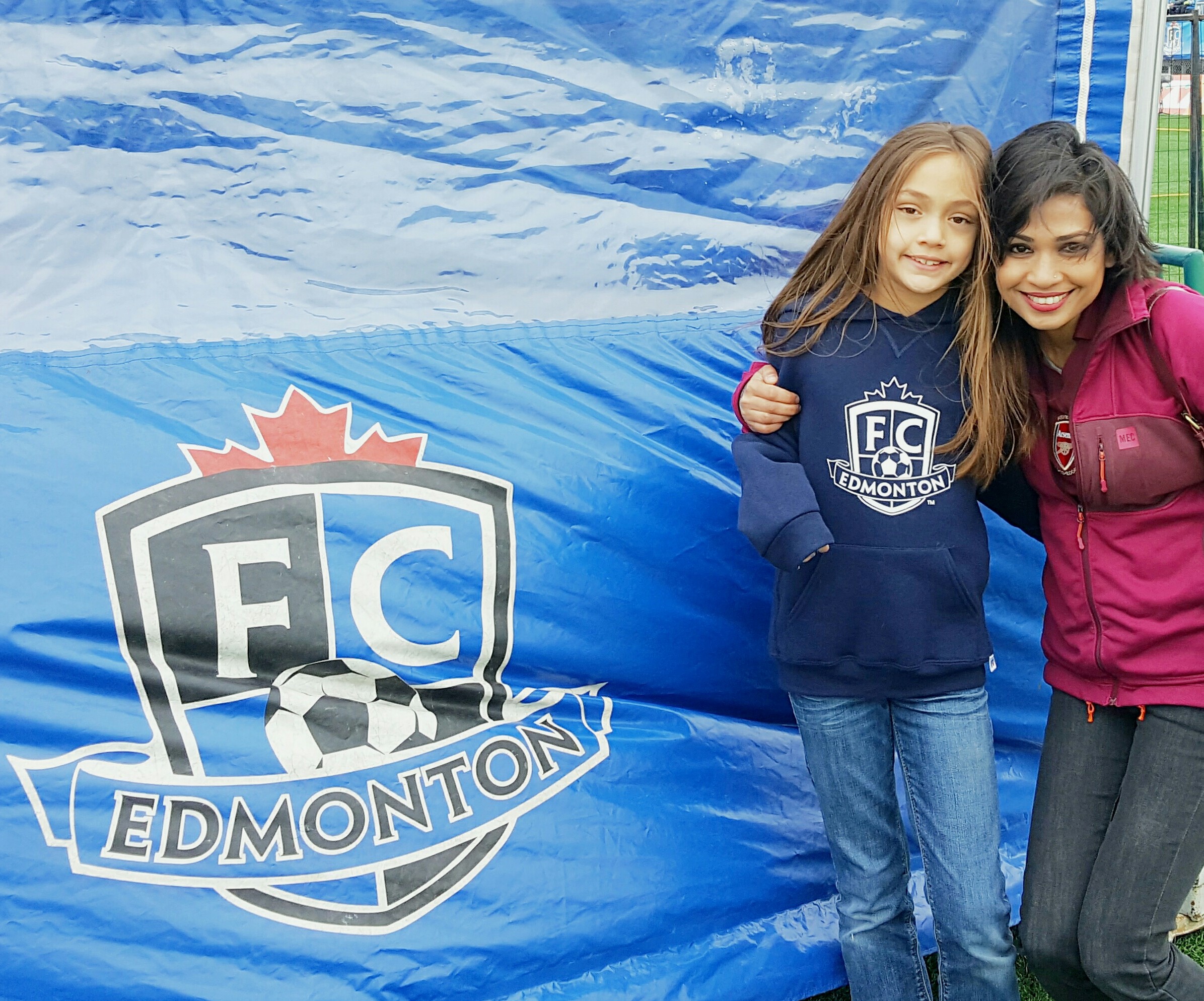 Our Game. Our Voice.
Note: These stories are posted as written and unedited in our fan's own words
By Michelle Peters Jones - Guest Contributor
My family and I moved to Edmonton about eight and a half years ago, from Liverpool, England. Edmonton, as a city, has fascinated me. In the time that I have lived here, I have watched the city transition, I've watched the city grow and I have, myself and my family, grown with it. We moved to Edmonton because we wanted to put down roots in a Canadian city. As a mixed race family, in many ways Edmonton felt like the right city to be in, at that point in our lives and while moving to Edmonton was a bit of a shock at first, very soon, this big city with a small town soul worked its way into our hearts – okay, I do complain bitterly about the cold all the time – but the charm and friendliness of the city was always present, and as we put down roots in the city, we have grown to love it and are proud to call it our home.
In many ways, today, the words community, diversity, multiculturalism and inclusion are buzzwords. It is easy to throw these words around when we are talking about various issues in the city. But as a first generation immigrant in Canada, these words are not just words to me. When you talk about diversity, you are talking about my mixed race family and me. When you talk about first generation immigrants, you're talking about me. These words form part of my experience of the country and the way in which I live my life, and the way my family lives it. We are a mixed race family, and these concepts are huge in our everyday lives. We want to find our people, we want to be integrated into our community and we want to share our experiences with our world. As first generation immigrants, it is even more important to find this integration. We need and want to be included in decisions that our city makes, and in return, our diversity and wealth of experience enriches the city.
Finding a space to belong in this city was hard, at first. Obviously, being from England meant that we were deeply immersed in football, or as the North Americans call it, soccer, culture for a while. Every city, small town and village in England has a soccer team and it is a deeply entrenched part of the community there. Edmonton, in many ways, identifies itself as a sporting city, and rightly so. We are lucky to have the Oilers and the Oil Kings, the Eskimos, and the Golden Bears and Pandas, and many other teams that call this city their home. So I was thrilled, when I discovered FC Edmonton. Going to games, supporting the team, seeing first hand the diversity and richness of the supporter culture, it made me feel at home, like I had found my people. Very soon, I was up there in the supporter's section, cheering with a vastly diverse crowd of people, singing about our love for FC Edmonton, and heckling away teams.
My family and I loved going to games and we were soon part of the community in the genuine, uncomplicated way of fandom. The first time I was at an FC Edmonton game, I sat next to a family who had just moved here from Ethiopia, and as we chatted, we found not just a mutual love for the game, but also common ground in our Canadian experience. FC Edmonton was an affordable way, to not just spend our afternoons, but also to get to know people who were outside of our small social circles, to broaden our experience of our city, and to be part of a larger whole, in the way fan cultures are. I would like to point out here, that in no way am I disparaging or putting down diversity in other sports in Edmonton, but I am just stating my experience, and the way in which people that I met through going to FC Edmonton felt about the city and our soccer team. For us, FC Edmonton was part of what made Edmonton feel like home, keeping us in the heart of its small town soul.
I believe that supporting a local team is one of the best things you can do. No only does it foster community, loyalty and friendships among diverse people, it also is one of the cornerstones of promoting a healthy interest in sports. Edmonton's minor soccer community is proof of this. Every summer, as I pass our local community sports field, it makes me smile when I see tiny kids, and gangly teenagers and adults playing the beautiful game. And in some ways, I feel sad that a lot of these kids have no pathway into the professional leagues we see in Europe or South America. Watching the minor soccer community and their sheer passion for soccer, and the way they cheered for FC Edmonton, they way they crowded the field after games, seeking autographs from players they identified with was nothing short of inspirational.
For me, the Canadian Premier League is the answer, and it serves as an extension of our identity as Canadian sports fans. We are lucky that we have the funding, passion and support in order to form this league. However, to continue to foster that sense of belonging and community, we need a professional soccer team in our city, in Edmonton. We need role models for our over twenty five thousand registered minor soccer players, as well as the huge community of soccer fans in the city. We need a team to foster that sense of belonging and offer a way into soccer as a profession. We need the team to encourage homegrown players. We need the friendly rivalries between cities, and the way in which they promote better understanding of ourselves as not just a separate people, but Canadians, as a whole.
Edmonton wants to bring in the World Cup, and the amazing atmosphere it generates, into this city. We have big dreams. How about we keep these big dreams, but start with bringing back professional soccer in the form of FC Edmonton and the Canadian Premier League first? We need FC Edmonton back in this city. We need to give our kids and family an affordable, yet community oriented, choice for their futures. We need FC Edmonton to bring up local players, to be role models, to give our young (and old) people another team to cheer for, a professional sports league to aspire to, a team to be included in, an affordable sport, an inclusive sport, a diverse sport with a really good sense of community.
A team to live for – as soccer legend, Bill Shankly puts it, ""Some people believe football (soccer) is a matter of life and death, I am very disappointed with that attitude. I can assure you it is much, much more important than that."